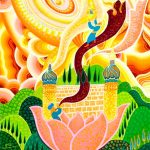 Rosh HaShana, 5775 / 2014
Sarah Yehudit Schneider
And in the seventh month, on the first day of the month…it is for you a day of teruah(sounding the shofar).[1]
: וּבַחֹדֶשׁ הַשְּׁבִיעִי בְּאֶחָד לַחֹדֶשׁ …יוֹם תְּרוּעָה יִהְיֶה לָכֶם
The essential obligation of Rosh HaShana (from the Torah) is not to pray all day, or to get dressed up and have a big family meal, but rather, simply, to hear the shofar. Yet what exactly does Hashem have in mind with this command? Would a short toot suffice or must we hear it several times over?  Should the shofar's blast be long and steady or perhaps, instead, staccato?
The search for answers to this question led the rabbis to a most unlikely role model: the cruel mother of our ferocious adversary, Sisera.
The Talmud's investigation begins with the Torah which calls Rosh HaShana the "day of teruah (sounding the shofar)." The next clue is the Targum which translates teruah into Aramaic as yevava(יבבה). [2] The third clue is that the root of that Aramaic word (י.ב.ב) is also Hebrew and appears only once in the entire Bible—in the bloody tale of Sisera's battle with the Israelites.[3]
Most are familiar with the story of Devorah, the prophetess, who is renowned as the only recorded woman judge. The Bible describes how she sat beneath a palm tree ruling on legal matters and resolving disputes. During her judgeship Devorah determined that it was time to initiate a military revolt against Yavin, the tyrannical Canaanite king. [4] Continue Reading…